Manufacturers and distributors
of high performance parts
for Pinspotter and Pinsetter
tenpin bowling machines
Distributors of a range of replacement Pinspotter and Pinsetter machine parts to the Australian tenpin bowling industry.
Brands include Kegel, Strike Maker, Twister, ZOT Bowling Parts, Tuffy, Omega-Tek and Enviro Bushings.
Manufacturers of LED lighting and indicators for tenpin bowling machines.
Suppliers and installers of lighting, audio and audio-visual components and systems to the Australian tenpin bowling industry.
Manufacturers of LaneMinder and MachineMinder lane safety systems and other safety-related products for Tenpin Bowling Centres.
---
Office hours - Mon to Fri 8:30am - 5:30pm Australian Eastern time
US phone number
(520) 303-5549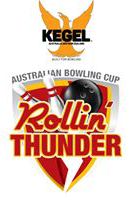 We are the major sponsor of the
Caboolture Bowl March 2019
Lane Machine: Kegel FLEX 2016
Lane Conditioner: Kegel FIRE and ICE
Lane Cleaner: Kegel Defence C
We now accept payments via PayPal
Tenpintec and Kegel Australia's
Graeme Rose appointed to
Tenpin Bowling Australia
Technical Committee
tenpintec products now at